SOLANGE MACARTHUR AWARD FOR NEW CHOREOGRAPHY
Named in honor of founder and benefactor Solange MacArthur, this award deepens Lumberyard's dedication to the development of new work by supporting artists at crucial moments in their careers. Each year, a selected choreographer is provided with commissioning funds, fee-free fiscal sponsorship, strategic marketing and development support, and a full presentation of the new work. Commissioned artists are selected through a closed nomination process conducted by Lumberyard's Artistic Advisory Board.
2017
Solange MacArthur Award Recipient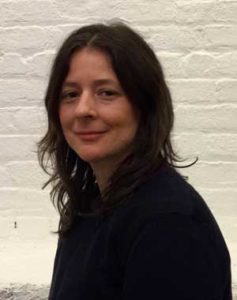 Kathy Westwater creates art that exists in the human body. Described by Dance Magazine as "bloodless and fascinating" and The Brooklyn Rail as "at the limits of the human," her work responds to contemporary experience and the societal landscape in which it manifests by reimagining the body' movement potential.
Westwater's most recent work, Anywhere, asks how a dance might engage with and itself be a monument. Her major works have explored the built environments of landfills and parks (PARK); phenomena of war and pain (Macho); human and animal culture (twisted, tack, broken); psycho-physical states of fear (Dark Matter); and interactive virtual environments (The Fortune Cookie Dance).

Developed in New York City, since 1996 her dances have been seen at New York Live Arts, Franklin Furnace, Danspace Project, Joyce SoHo, 92nd Street Y, Movement Research at Judson Church, Brooklyn Museum of Art, Dixon Place, Lower Manhattan Cultural Council, Performance Space 122, Brooklyn Arts Exchange, Brooklyn Studios for Dance, Temple University, Pratt Institute, Reed College, and many parks and public spaces, among others. Her work The Fortune Cookie Dance is cited in The Drama Review as an early example of online interactive dance and archived in the Walker Art Center's Mediatheque Archive.
Westwater has received commissions from New York Live Arts and Danspace Project; and awards from Puffin Foundation, Franklin Furnace Fund, Meet the Composer, and New York Foundation for the Arts. She is the recipient of numerous residencies: New York Live Arts, Djerassi, Movement Research, NYC Department of Parks and Recreation, iLAND, The Field, Rockbridge Artist Exchange, Millay Colony for the Arts, Lower Manhattan Cultural Council, and Pratt Institute; and was also named a Mellon Anchor Tenant Artist by the Joyce Theater Foundation. Early support included space grants from 92nd Street Y Harkness Center and Brooklyn Arts Exchange, and a fellowship from Summer Stages Dance Festival.
Inspired by early studies with Simone Forti, Dana Reitz, and Sara Rudner, Westwater has since been described by Rudner as a "seminal artist." In addition her own work, Westwater has danced in reconstructions of Simone Forti's groundbreaking works Slant Board and Huddle at Lincoln Center and Steve Paxton's influential Satisfyin' Lover and State at the Museum of Modern Art. She originated roles in Historias and Familias, both by choreographer Merián Soto & visual artist Pepón Osorio, and performed them nationally and internationally, including at Jacob's Pillow, Lincoln Center, and Dance Theater Workshop, among many other places. Historias has been recognized as an American Masterpiece by the National Endowment for the Arts. Westwater has also performed in works by Sally Silvers and K.J. Holmes.
Since 2001, Westwater has taught at Sarah Lawrence College. She is also on the faculty of Movement Research, and serves on its Artist Advisory Council. Through workshops, talks, and writings she has explored the intersections of art and society at, most recently, UC Berkeley, University of Michigan, UCLA, and Norwegian University of Science and Technology.
Westwater received an MFA from Sarah Lawrence where she was awarded the Bessie Schönberg Scholarship, and a BA from William and Mary where she studied political economy and dance. Dedicated to advancing the working conditions of artists, as a founding member of Dancers Forum she co-authored The Compact.
Headshot photo by Jae Lee
FORMER SOLANGE MACARTHUR AWARD RECIPIENTS
Raja Feather Kelly
2016 Awardee
Recipient of the 2016 Solange MacArthur Award for New Choreography, Raja Feather Kelly was born in Fort Hood, Texas and is the first and only choreographer to dedicate the entirety of his company's work to Andy Warhol. He is the creator of ANDY WARHOL'S 25 CATS NAME SAM; ANDY WARHOL¹S DRELLA (I LOVE YOU FAYE DRISCOLL); ANDY WARHOL'S 15: COLOR ME, WARHOL; ANOTHER 37 REASONS TO CRY (ANOTHER WARHOLIAN PRODUCTION); ANDY WARHOL'S TROPICO; and many short works, all of which have been created and performed throughout various theatres in New York City. For over a decade, Kelly has worked throughout the United States and abroad (Austria, Germany, Australia, United Kingdom, and France) in search of the connections between popular culture and humanity and their integration into experiential dance-theatre. Kelly currently choreographs, writes, and directs his own work as Artistic Director of the feath3r theory, a culture-driven dance-theatre company. He is a two-time recipient of Jerome Foundation commissioning funds for emerging artists (Dixon Place 2015, Danspace Project 2016), Jerome Foundation Travel and Study Grant recipient (2013­2015 Paris + Lyon, France), 2016 Dancemapolitan Commissioned Choreographer, 2015 Dixon Place Dance Artist in Residence, LMCC Workspace Resident Recipient, and an Emerging Choreographer residency at Bates Dance Festival. He has been the Guest Choreographer in Residence at Princeton University, University of Maryland College Park, University of Florida, University of Utah, and Middlebury College; the Harkness Choreographer in Residence at Hunter College; 2009 and 2011 Dance Web Scholar (Vienna, Austria); and has received a Foundation for Contemporary Arts Emergency Grant. Kelly is a 2016 Gelsey Kirkland Academy Artist in Residence. Kelly can be seen in the work of Reggie Wilson/Fist and Heel Performance Group, Rebecca Lazier, and Christopher Williams. He has formerly been a company member with David Dorfman Dance, Zoe | Juniper, Racedance, and PearsonWidrig DanceTheater. Kelly collaborates with Tzveta Kassabova and Paul Matteson. He has had the pleasure of performing in the work of Colleen Thomas and Dancers, and Kyle Abraham/Abraham.In.Motion. He received his BA in both Dance (with honors, concentration in Choreography and Performance) and English (with honors, concentration in Poetry) from Connecticut College. Raja lives in Brooklyn, New York with loved ones and continues his quest for enlightenment through self-help books and memoirs.
Steven Reker
2015 Awardee
Steven Reker moved to New York from Arizona in 2006, finding work as a dancer and guitarist on David Byrne's 2008-09 tour, as a composer in Yasuko Yokoshi's dance work, and as a choreographer for Miranda July's film The Future. In 2009, in The Kitchen's Dance and Process series, Reker debuted his own group, People Get Ready, to channel both sides of his creativity. NPR Music has called People Get Ready's marriage of indie rock melodies and movement "the best mix of performance art and music in decades." Reker premiered his first hybrid performance production, the eponymously titled People Get Ready, at The Kitchen in 2011. The New York Times wrote that his work had "blossomed into an ephemeral landscape where music works in tandem with movement and lights," and described the production as "an experience beyond hearing music…or viewing dance." He has recently served as a guest musical curator for PS122. He headlines a concert in Lincoln Center's American Songbook series on February 27.

Chris Schlichting
2014 Awardee
Chris Schlichting is a Minnesota-based choreographer and performer creating work that begins with movement impulses and then accumulate carefully measured layers of cultural sources and influences. Believing in a nimble and flexible definition of dance, he strives to unearth compelling examples that strike an uncertain balance between formal investigations and earnest expression; between large-scale spectacle and delicate intimacy; between dance conventions of presentational styles and elaborate ritual to simple moments of exposed vulnerability. Schlichting was named Best Choreographer in 2013 by Minneapolis-St. Paul City Pages for his work Matching Drapes, which also received two Sage Awards, including one for "Best Performance" and one for "Best Design". He is the first recipient of the American Dance Institute's (Rockville, MD) Commissioned Artist award, a new project that provides commissioning funds, fiscal sponsorship, developmental and production support for a new work from one U.S. based choreographer every year. Schlichting has been presented by venues throughout Minnesota, including the Southern Theater, the Bryant Lake Bowl, the Red Eye Theater, the Walker Art Center and many more; in New York at Danspace Project and as a frequent contributor to CATCH! performance series; at ODC in San Francisco, CA; and at Velocity in Seattle, WA. He frequently collaborates with Morgan Thorson, including performances in "Faker" and "Heaven", both of which enjoyed illustrious tours throughout the U.S. and for "Faker" also in Daejeon, South Korea. Schlichting's work has been commissioned by Danspace Project at St. Marks (by Tere O'Connor for Food for Thought, by Judy Hussie-Taylor for the Body Madness Platform), James Sewell Ballet (Ballet Works Project), the Walker Art Center (The Momentum Series, the 25th Sculpture Garden Celebration, and for a new work in the 2014/15 performance season), The Southern Theater, Young Dance, and Zenon Dance Company. He was selected to participate in the Regional Dance Development Initiative (RDDI) and the Minnesota Contemporary Dance Platform (MCDP) and for the upcoming Dance USA Conference in June of 2014.
FUTURE ARTISTS INITIATIVE
Lumberyard's Future Artists Initiative seeks to strengthen the future of the art form by awarding scholarships to a diverse group of talented students. In its first two years, the initiative has supported 25 deserving awardees to continue their studies, launch their professional careers, or attend the International Association of Blacks in Dance's 1st Annual Women of Color Audition in Denver in January 2016.
2016-17 Future Artists Initiative Scholarship Awardees
In 2016, The Future Artists Initiative awarded scholarships to 10 pre-professional students ages 12-18. Drawn from a pool of 118 students nominated by 36 schools from across the country, this is an impressive group of hardworking young artists who exhibit strong leadership and remarkable talent.
OTHER SCHOLARSHIPS
In addition to those above, the Future Artists Initiative awards scholarships to students and young professional dancers at two institutions: The Washington Ballet's Studio Company and American Ballet Theater's Jacqueline Kennedy Onassis School.
THE WASHINGTON BALLET STUDIO COMPANY SCHOLARSHIPS
Peishan Xie
2016/17 Awardee
Washington, DC
Peishan Xie of Shenzhen, China began her dance training at the age of 11 at Liaoning Ballet Academy of China. In 2010, she attended the Osaka International Youngsters Ballet Competition. In 2011, she attended Sapporo International Youngsters Ballet Competition and earned the Performance Award. In 2012, Xie was a finalist in the Youth America Grande Prix in New York. The 2016/17 season marks Xie's third season with The Washington Ballet as a studio company member.
Nardia Boodoo
2015/16 Awardee
Washington, DC
Nardia Boodoo from Baltimore, Maryland attended the Baltimore School for The Arts from 2004-09, the North Carolina School for The Arts 2009-10, and was a Professional Training Program (PTP) program dancer at Dance Theatre of Harlem 2010-11 on full scholarship. She has danced at Jacob's Pillow in 2011 alongside a select group chosen to work with Stanton Welch on performing an original piece. Boodoo was a trainee at Joffrey Ballet in Chicago under the direction of Alexei Kremnev and Anna Reznik, where she performed in company pieces such as Don Quixote, Infra, The Nutcracker and was the lead in Choreographers of Color winner Jeremy McQueen's Black Iris as well as various works by Alexei Kremnev. With The Washington Ballet, Boodoo has performed in many full-length ballets such as Giselle, Peter Pan and The Nutcracker, as well as Aaron Jackson's Abstract Pieces. Boodoo joined Pennsylvania Ballet as an Apprentice for the 2016/2017 Season.
Darion Flores
2015/16, 2016/17 Awardee
Washington, DC
Darion Flores was born in Hartford, Connecticut. He began his training in both ballet and tap at the early age of 4. Flores studied classical ballet at the Hartt School under the direction of Miguel Campaneria before relocating to attend The University of North Carolina School of the Arts in Winston-Salem, NC. Upon graduating, Darion joined the Ellison Ballet Professional Training Program in New York, NY in order to further his classical ballet training . Flores has been fortunate enough to study with teachers such as Susan Jaffe, Misha Tchoupakov, Anne-Marie Holmes and many more. Darion has also received full scholarships to Dance Theatre of Harlem, San Francisco Ballet, American Ballet Theatre, and Boston Ballet summer intensives. He recently took part in the show So You Think You Can Dance as a season 12 top 20 finalist. The 2016/17 season is Flores' second as a studio company member.
MICHAEL L. AND PAMELA BJERKNES ABT/JKO SCHOLARSHIP
Léa Fleytoux
2016/17 Awardee
New York, NY
Léa Fleytoux began classical ballet training at the age of four with Nicole Chouret at Ranelagh Theater in Paris. In 2007, she continued her studies at Conservatory Municipal "Camille Saint-Saens" of Paris, and in 2010 she joined the National High School of Dance of Marseille where, she trained for three years. In 2013, Léa began training at the Conservatory National Superior of Music and Dance of Paris (CNSMDP). In 2016, she participated in the Prix de Lausanne, received a diploma from CNSMDP, and began her studies at the Jacqueline Kennedy Onassis School of American Ballet Theater.
Luigi Crispino
2015/16 Awardee
New York, NY
Born in Naples, Luigi Crispino began his ballet training at the age of 8. In 2005, he joined the Ballet School of San Carlo's Theater, where he graduated in June 2015. While at the School, he performed leading roles such as Oberon in Midsummer Night's Dream, Prince Charming in Snow White, and Capitan Uk in Peter Pan and danced in Napoli Pas De Six, Sleeping Beauty, Suite Baroque,E=Merce Cunningham, Hymns of Europe, Pinocchio, the Prince Igor and Orpheus and Eurydice. In 2014, he participated in the Prix Rome Jia Ruskaja by Italy's Foundation of the National Academy of Dance. From 2012 to 2015, he danced in the Gala of the Ballet of San Carlo's Theater. Also in 2015, he danced the role of Prince Charming in Snow White in the Festival Renato Fiumicelli 34th Edition. In August 2015, he won the prize for promising young talent in the Premio Danza Capri International, and that summer, he was awarded a scholarship to attend American Ballet Theater's summer intensive. He attended the Jacqueline Kennedy Onassis School of American Ballet Theater with a Future Artists Initiative scholarship in 2015/16 and was hired into American Ballet Theater's Studio Company in 2016.